Benefits of Yoga : Flexibility, Strength, Posture, and Mind
Benefits of yoga asana to cure health issues at home.
8 Health Benefits of Yoga Practice
Improve sleep
Increases flexibility
Strengthens Bones
Balances Metabolism
Increases Muscle Strength
Perfects Body Posture
Improves Digestion
Lowers Blood Pressure
Above  are the 8 benefits of Yoga by Certified Yoga Trainer Rakesh Rathod. If you want to learn yoga asana at home you can follow his Instagram @ fitnesstrainerrathod
Maintaining a regular yoga practice can provide physical and mental health benefits.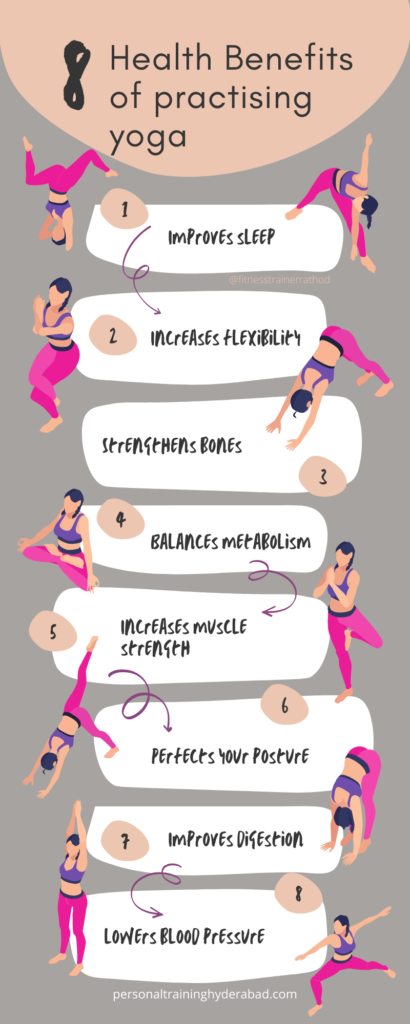 Learn about the different types of yoga with Rakesh Rathod.
You Need to Calm Your Mind and Move Your Body With Yoga.
Learn yoga asana for a proper period cycle
Physical Benefits Of Yoga
Practicing yoga regularly benefits to resolve or cure chronic pain, such as lower back pain, arthritis, headaches and carpal tunnel syndrome. Yoga can also lower blood pressure, migraine and proper period cycle.
Few Other Physical Benefits Of Yoga:
Yoga increase flexibility
Yoga increase muscle strength
Yoga improves respiration system
Yoga helps in weight reduction
Yoga improves athletic performance
Mental benefits of yoga
Apart from the physical benefits of yoga, the best benefits of yoga is to manage stress. Stress can be reveal in many ways, including back and neck pain, sleeping problems, headaches, and improves concentration.
Along with practicing only yoga at home in kollur, you can add meditation and Pranayama to improve mental well-being. Regular yoga asana practice improves mental benefits, increases body awareness, reduce chronic stress, relaxes the mind, and increase concentration.
Health Benefits of Yoga for Women
Reduce the symptoms of PMS.
Relieves back pain.
Slow down the onset of Alzheimer.
Helps during both Pregnancy and Labor.
Improves life quality for those living with breast cancer.
For more interesting topics click on the follow names: