Get Best Personal Trainer In Hyderabad
Introduction:
Looking for the best personal trainer in Hyderabad or the best fitness trainer in Hyderabad. My name is Rakesh Rathod, and I'm the co-founder of RK BODY AND SOUL after spending over eighteen years in the fitness industry. I found that many people out there are practicing personal trainers without the proper qualifications or the proper training.
Choosing a personal trainer in Hyderabad can be hard, and most people that choose a freelance personal trainer to train them outside of the gym environment don't ask to see their credentials. Our goal and mission at RK Body and Soul are to bring the most qualified personal trainers and the best fitness trainers from right across India. So that regardless of the area you live in, we have you covered all the personal trainers, fitness trainers, and yoga trainers on our site.
Go for a vigorous interview process to test their knowledge and skills and check their qualifications so that you the customer gets nothing for the best. I mean, we're not just talking about a cowboy trade person here that may do some dodgy building work.
We're talking about your body and your health and that's not something that should be messed about with by Bad's instructor. Choosing a Personal Trainer In Hyderabad from RK Body and Soul is easy to choose your location and feel safe in the knowledge that we have vetted.
All of our trainers to make sure they are the very best and help you achieve your goal safely and effectively.
Best Personal Fitness Trainer at Home in Hyderabad.
Avail of the best deals on fitness Trainer at home in Hyderabad @rkbodyandsoul, and get complete weight loss workouts that will help you lose extra fat. Our experienced personal trainer and yoga trainers will help you in reaching your target.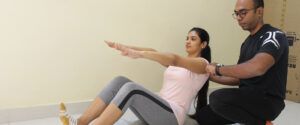 Best Online Personal Trainer at Home In Hyderabad Only at RK BODY AND SOUL
A Fitness Trainer is responsible for the development, maintenance and promotion of a healthy lifestyle for clients. This includes designing personalized exercise programs, leading group fitness classes, and conducting personal training sessions.
Responsibilities Of A Personal Trainer In Hyderabad or A Fitness Trainer In Hyderabad:
Design, develop and produce personalized exercise programs for clients to meet their specific goals such as weight loss, muscle tone or sports enhancement.
Provide high-quality instruction in group fitness classes including Zumba, Yoga, Spinning and more.
Conduct 1:1 personal training sessions that include strength training, cardiovascular training and nutrition coaching.
Develop a variety of workshops that will help clients meet their goals.
Maintain client records that include progress reports and client questionnaires.
Follow up with clients to ensure they are meeting their health goals.
Provide feedback to management on client needs as well as suggestions on how to improve operations.
Assist with the marketing of the company by creating flyers with new personal training schedules or promotional events.
5 ways to hire a Best Personal Trainer in Hyderabad or a Best Fitness Trainer In Hyderabad
Personal trainers are becoming an important part of many people's lives. Hiring a best personal trainer in Hyderabad is now more and more popular. It is necessary to find the right personal trainer for yourself.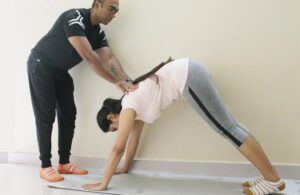 Get best online personal trainer in hyderabad for weight loss and strength training.
Here are 5 ways you can hire a personal trainer in Hyderabad:-
You can ask your friends and family for help in finding the best personal trainer or the best fitness trainer.
You can do some research online: You can find reviews, qualifications, and photos from the trainers on the website.
Ask for recommendations from your doctor or physiotherapist: Your doctor or physical therapists might have connections with trusted fitness professionals whom they recommend.
Get referrals from your local gym: Many gyms keep records of the professional services they provide to their members which they may share with you.
Visit a park nearby, where you can find a freelance personal fitness coach who will be already training their clients in that park.
Types Of Fitness Trainer In Hyderabad:
Best Fitness Trainers In Hyderabad / Telugu Fitness Trainer In Hyderabad / Personal Gym Trainer In Hyderabad / In-Home Gym Trainer In Hyderabad / Female Fitness Trainer In Hyderabad
For more interesting topics click on the follow names:
Female Bodybuilding Training In Telangana | 7 Tips To Lose Weight After Delivery | Cheapest Protein Sources In Beyond Meat | Saddlebag Fat Removal Exercise At Home